GALAPAGOS PHOTOGRAPHY ADVENTURE
With Charles Steinberg
IMAGINE one of the world's richest wildlife hotspots
Located six hundred miles off the west coast of South America, this volcanic archipelago is a sanctuary for abundant wildlife found nowhere else on the planet.
EXPLORE diverse landscapes
Our experienced Naturalist will guide us on an exploration of San Cristobal, Floreana, Isabela and Santa Cruz Islands. We'll explore white sand beaches, volcanic craters, pirate caves, mangrove shorelines, cactus forests, an organic coffee farm, and quaint towns with friendly locals.
EXPERIENCE up-close encounters with the natural world
Surrounded by open ocean and a sun-touched arid landscape, we'll encounter blue-footed boobies, nesting frigate birds, marine iguanas, and giant tortoises. Underwater exploration provide opportunities to swim with sea lions, snorkel with exotic fish, observe white-tipped reef sharks, and if we're lucky, sea turtles too.
Enhance your photography skills in this idyllic, hands-on learning environment. One-on-one instruction, supportive group critiques, and evening presentations will provide the guidance needed to deepen our skills and return home with stunning shots of our epic Galapagos adventure.
Designed for photographers of all levels, seasoned to novice, we'll adapt each day to make the most of photographic opportunities as they arise.  We'll travel through one of the most unique places on the planet with our very own expert photographer, learning tips and techniques for shooting wildlife photography, stunning portraits, and diverse landscapes, in varied light conditions.
Charles Steinberg is a published photographer who teaches in Colorado and British Colombia. He has published several beautiful books including "Hollyhock Moments" and "From Point and Shoot to Brilliant Photography". He is a Hollyhock co-founder whose photos are often found in the Hollyhock catalogue. charlessteinbergphotography.com
November 9-18, 2018
10 days / 9 nights
$3,950 USD
Day 1: Quito Arrival Day (Nov 9th)
Highlights
★ Free time to explore
★ Welcome meeting
★ Dinner on the town
Welcome to Ecuador, the jewel of South America, with diverse  landscapes that stretch from the Andean highlands to the lush Amazon basin, and the Galapagos Islands. Located in the foothills of the Andes at 2,850m, the capital city of Quito is an eclectic mix of Spanish Colonial history, contemporary living, and indigenous cultures.
During the day there are no planned activities so check into our boutique hotel and enjoy free time to explore the city.
Evening welcome meeting followed by dinner. 
Day 2: San Cristobal Island

Highlights
★ Flight to San Cristobal
★ Swim with Sea Lions
Our morning flight touches down on San Cristobal Island.
For our first encounter with resident sea lions, we'll head to their local hangout to see them play, nap, and pose for our cameras. Free time to swim and snorkel with the playful sea lions and if we're lucky, sea turtles too! As the sun sets, we'll head back to town for fresh island cuisine at a friendly island restaurant.
Evening Photography Presentation
Day 3: San Cristobal Island
Highlight
★ Boat excursion to Kicker Rock or Isla Lobos
Today we get a glimpse of the enchanting underwater world of the Galapagos. A morning boat ride takes us to Kicker Rock or Isla Lobos. Along the way we'll observe abundant marine wildlife – blue-footed boobies, nesting frigate birds, pelicans, and playful sea lions. We'll dip into the ocean with our snorkel gear, keeping an eye out for manta rays, puffer fish, sea turtles, and chocolate chip starfish. This is a great opportunity to experiment with an underwater camera if you have one. We'll return to land by mid-afternoon with free time for independent photography.
Evening Photography Presentation 
Day 4: Isabela Island
Highlights
★ Galapagos National Park Interpretation Center
★ Hike Frigate Bird Hill
★  Travel to Isabela
A visit to the Interpretation Center gives us a deeper understanding of the history of the archipelago from its volcanic origins, varied ecosystems, cultural history, and present day conservation efforts.A short hike leads us to Frigate Bird Hill to photograph a mixed colony of Magnificent Frigate Birds and Great Frigate Birds with sweeping views over Charles Darwin Bay.  In the afternoon we travel by private speedboat to Isabela Island, one of the most beautiful in the archipelago.
Evening Photography Presentation
Day 5: Isabela Island
Highlight
★ Shark Alley
Today we travel by zodiac to Shark Alley, famous for white-tip reef sharks. A short walk on this isolated inlet will take us through a popular iguana-nesting site where we'll have an opportunity to photograph marine iguanas in their natural habitat. Snorkelling in a calm inlet we'll see colourful fish, winding underground lava tubes, and if we're lucky, green sea turtles that like to rest on the sea floor. Late afternoon we'll return to the picturesque town of Puerto Villamil for an Isabella sunset.
Evening Photography Presentation
Day 6: Isabela Island
Highlights

Free day to enjoy number of optional activities such as:
★ Hike Volcano Sierra Negra
★ Snorkel at Concha y Perla
★ Bike to the Wall of Tears
★ Relax at our beach front hotel
For those that opt to for Volcano Sierra Negra, don't forget your hiking shoes! The Sierra Negra Volcano (1490m) is the second largest volcanic crater in the world (after Ngorongoro Crater in Tanzania). A moderate 5-6 hour hike on undulating terrain will take us up and around the perimeter of the volcano. Along the way we'll see breathtaking views and colourful minerals found in the lava rocks. Stopping at various lookouts our naturalist guide will help us to spot and identify rare bird species found only in the highlands. Return mid-afternoon with time to relax and organize your photos.
Evening Photography Presentation
Day 7: Santa Cruz Island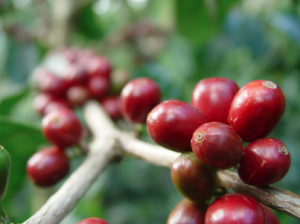 Highlights
★ Organic Coffee Farm
★ Explore Town
★ Dine like the Locals
A little known secret, some of the best coffee beans in the world are grown in the Galapagos Islands. In the morning, we'll travel into the highlands to meet a local organic farmer who will walk us through his land, teach us about the coffee roasting process, giving us an opportunity to taste and purchase coffee directly from this local producer.
Next we'll head to Santa Cruz Island, the tourist Capital of the Galapagos. Free afternoon to explore the streets of Santa Cruz or spend time organizing our photos.
In the evening we'll join the locals on Calle de los Kiosks, a little back street where food stall restaurants are set up in the middle of the street for open-air dining.
Evening Photography Presentation  
Day 8: Santa Cruz Island
Highlights
★ Tortuga Bay
★ Giant Tortoise Reserve
★ Lava Tunnels
A leisurely 45 min afternoon walk along the path to Tortuga Bay, will take us to one of the most stunning beaches in the archipelago. Get your cameras ready because we'll likely spot blue-footed boobies, lava lizards and massive marine iguanas along the way. Sheltered by mangroves this white sand beach is a pristine photo-op and an idyllic location for swimming.
Our final excursion will be to a Giant Tortoise nature reserve where we'll witness and photograph these massive creatures in their natural highland habitat. We'll end with an underground exploration of lava tunnels giving us a deeper understanding of the natural forces that created these unique islands.
Final Evening Presentation to share our favourite photos
Day 9: Return to Quito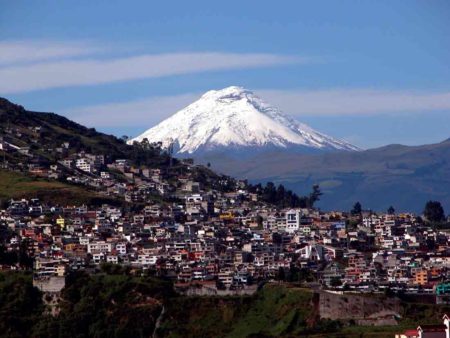 Highlights
★ Fly to Quito
Today we bid farewell to the enchanted islands as we catch our return flight to Quito for our farewell dinner and last night on the town.
Day 10: Departure Day (Nov 18th)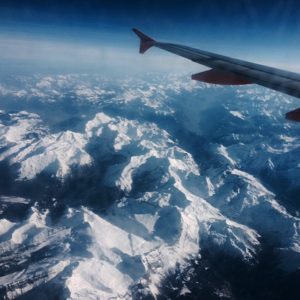 Bon voyage!
Today there are no planned activities and you are free to depart at any time.
Want to stay longer?
If you'd like to extend your stay in Ecuador, let me know! I can help you arrange a variety of day trips including a Quito City Tour and visit to the Equator, colourful indigenous markets, hot springs, adventures to snow-capped volcanoes and turquoise lagoons.
You may also want to join me on a Journey to the Amazon.
Additional pre or post trip accommodation in Quito can be arranged at the time of booking.
Charming Accommodations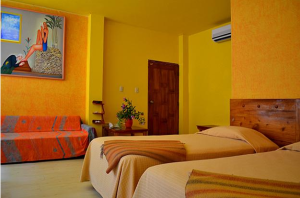 We'll stay in charming hotels, each with their own unique design and character.
9 nights of double-occupancy accommodations are included in the cost of the tour.
If you wish to upgrade to private, single occupancy accommodation, add $725 USD.
Extra nights of accommodation at our boutique hotel in Quito is also available if you wish to extend your stay before or after the tour.
$90 USD per night (single occupancy)
$120 USD per night( double occupancy)
★ Meals: 9 breakfasts, 1 lunch
★ Accommodation: Double-occupancy (9 nights)
★ Domestic flights to/from Quito and the Galapagos Islands
★ Transportation: Air-conditioned vehicles, private speed boat, zodiacs, local bus
★ Naturalist Galapagos Guide
★ Photography teacher with 1-on-1 instruction and educational presentations
★ San Cristobal Island: Interpretation Center, hike Frigate Bird Hill, Boat excursion to Kicker Rock or Isla Lobos
★ Isabela Island: Shark Alley, organic coffee farm
★ Santa Cruz Island: Tortuga Bay, Giant Tortoise Reserve, Lava Tunnels
★ Snorkel, mask and flippers
★ International Airfare
★ Galapagos National Park Entrance Fees – $130 USD
★ For meals not included – budget $300USD
★ Taxis from Quito airport to Quito hotel on arrival and departure days – budget $30 per taxi
★ Tips for local guides (appreciated but not required)
★ Wet suit (To rent locally budget $40USD for short sleeve or $70 for long sleeve)
If you're a nature lover, adventure enthusiast, passionate about photography and want to improve your skills, this trip is for you!
Galapagos Photography Adventure
$3,950 USD
Nov 9-18, 2018
In partnership with Canada's premier lifelong learning institute.
Hollyhock exists to inspire, nourish and support people who are making the world better.